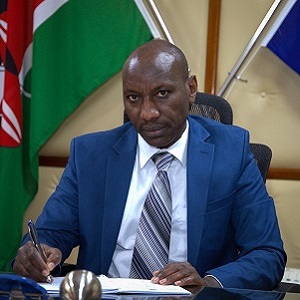 Dr. Jamleck Muturi
Commission Chairman
Dr. Jamleck Muturi John was appointed TSC Chairman on April 29th 2021. Until his appointment, Dr. Muturi served in the Embu County Government as Executive Committee Member (CECM) and was in charge of Education Science, Technology and ICT.  
A career educationist, Muturi has had a long illustrious career spanning over 30 years. He has served as CEC in various Ministries which are Lands, Water, Environment and Natural Resources; Health; Trade, Tourism, Investment & Industrialization, lately served in Agriculture, Livestock, Fisheries and Cooperatives in Embu County.  
He has lectured at:  University of Embu, Kenyatta University, Part time Lecturer University of Nairobi, Meru University College of Science and Technology and Swedish University of Agricultural Sciences (SLU) - Uppsala Sweden.  Muturi has also served as a teacher in various schools in Kenya, as an assistant teacher in Kathakwa Secondary in Embu, Huruma Girls Nairobi; and has been in administration as Deputy Principal Nguviu Boys - Embu, Principal St. Joseph M'tetu - Embu, St. Stephen Boys Kavutiri High School and Moi High School - Mbiruri.
He holds a PhD in Agricultural Entomology from Kenyatta University; a Higher Diploma in Human Resource Management from the Institute of Personnel Management, Kenya (IPM (K), Master of Science in Agricultural Entomology from Kenyatta University (KU), Master of Business Administration – Global Business Management (MBA - GBM) from United States University – Africa – (USIU – Africa) and a B.Ed. Science in Botany and Zoology; Kenyatta University.  He has published several scientific peer reviewed journals in areas of Science.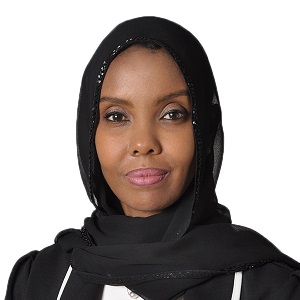 Leila A Ali
Commission Vice Chair
Ms Leila A Ali was appointed member Teachers Service Commission on 4th May 2020. She has a wealth of experience in the financial sector spanning over 12 years both in Kenya and the United Kingdom. MS Leila has actively been involved in incubating different small sized companies into profitable and successful companies.
She has worked with Baker Tily Merali as the in charge of planning and execution of large and medium sized company's due diligences and audits including those of non-governmental organizations. Ms Leila has also served in various boards including the Wangari Maathai Foundation and the Competition Authority of Kenya.
She holds BA (Hons) in Accounting and Finance from the London South Bank University. Ms Leila is an affiliate of the Association of Chartered Certified Accountants (ACCA).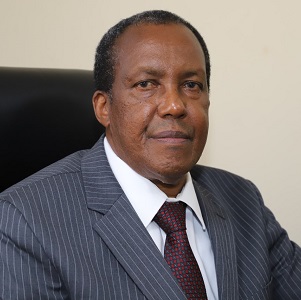 Mbage Njuguna Nganga
Commissioner
Mr Ng'ang'a was appointed member of the Teachers Service Commission on 29th April 2020. Prior to his appointment, he has served in various capacities both in the private sector and in public service. Mr Ng'ang'a is an Advocate of the High Court of Kenya and a Certified Public Secretary. He has practiced law for over twenty-five years. He has also served as Chairperson of the Kenya Law Reform Commission for six years and as Chairperson of the Energy Tribunal for six years.
Mr Ng'ang'a is a graduate of the University of Nairobi (Bachelor of Laws (LLB) degree). He also holds a Masters of Law (LLM) degree from the University of London and a Master of Science (MsC ) degree in Agricultural Development from the University of London. He has also undertaken further advanced and specialized Executive programs in Financial Law, Economic Development, Public Enterprise Reform and Regulatory Law in leading Universities and other institutions of higher learning which include Harvard University – Kennedy School of Government, Cambridge University – Jesus College, University of Florida – Public Utilities Research Centre, Duke University – Duke Centre for International Development, and the International Law Institute.
He is a Member of the Law Society of Kenya and the Institute of Certified Secretaries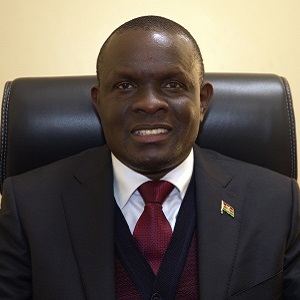 Timon Oyucho
Commissioner
Commissioner Oyucho Timon was appointed Member of the Teachers Service Commission on 29th April 2021. Prior to his appointment, Comm. Oyucho served as the Director Legal, Labour and Industrial Relations Directorate at the Teachers Service Commission.
A long serving public servant, Comm. Oyucho joined the Teachers Service Commission in 1987 as a classroom teacher (Mathematics & Physics) where from he moved up the ranks to positions of High School Principal (Ratta Mixed Secondary School: 2000-2005); District Staffing Officer (Kilifi District: 2006); Provincial Staffing Officer (Western Province: 2007-2008); Principal Discipline Officer (TSC Headquarters: 2008-2014); Assistant Deputy Director, Legal Services Division (TSC Headquarters: 2014-2019).
Comm. Oyucho holds a Bachelor of Laws Degree (LL. B) and Master of Laws Degree (LL. M) from University of Nairobi; Post Graduate Diploma in Laws from Kenya School of Law; a Diploma in Science Education from Kenya Science Teachers College (as it was then). Currently, Comm. Oyucho is pursuing a Ph. D of Laws (LL. D) from the University of Nairobi; and a Masters Degree in Employment and Labour Relations at the International Training College (ITC) of the International Labour Organization (ILO) in conjunction with the University of Turin, Italy.
Comm. Oyucho is a member of the Law Society of Kenya and the East Africa Law Society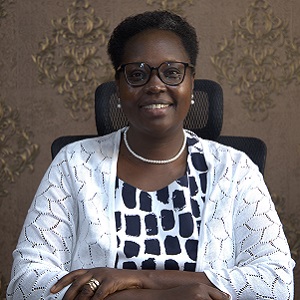 Sharon Kisire
Commissioner
Sharon Kisire has over 20 years' experience in Human Resource and organizational leadership in both public and private sectors. She has served in various Human Resource management roles at the Kenya Pipeline Company, Safaricom, Kenya Wildlife Service, National Oil Corporation, and the Mater Hospital.
She holds a Master of Arts and a Bachelors of Arts in Sociology, both from Kenyatta University. She also has a Diploma in Human Resource Management.
Further, she is a Certified Secretary (KASNEB), a Certified Governance Auditor (ICS), a Certified Executive Leadership Coach (CELC) and a Certified Emotional Intelligence Assessor (CEIA). She has served in several professional boards and is a member of the Kenya Institute of Management (KIM), Institute of Certified Secretaries (ICS) and the Institute of Human Resource Management (IHRM).
She is an author of six (6) academic and motivational books.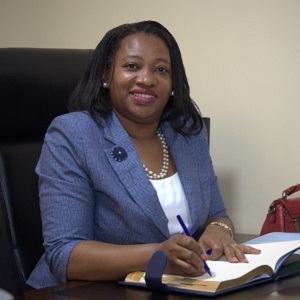 Annceta Wafukho
Commissioner
Ms. Annceta Wafukho has over 20 years' experience as an educationist; straddling public policy analysis, parliamentary training, corporate training, and teaching. She began her career as a graduate teacher instructing Computer/ICT and Business Studies at Gatanga Girls High School (Thika).

Prior to her appointment as a Member of the Teachers Service Commission, Ms. Wafukho worked at the Parliament of Kenya within the Centre for Parliamentary Studies and Training (CPST); where she was charged with training Members of Parliament and legislative staff on Public Policy Analysis and Public Participation & Outreach.

Ms. Wafukho has also served as a technical adviser to Members of Parliament on policies, bills, and legislative proposals on education covering University and Tertiary Education, Technical and Vocational Education and Training (TVET), Science and Technology, Basic Education, Early Childhood Development Education (ECDE), and Curriculum Development. During her tenure as a parliamentary staffer she played a critical role in the review of educational sector sessional papers to enlighten decision making and legislative agenda.

Ms. Wafukho holds a Master's Degree in Education (Education Planning), a Master's Degree in Business Administration (Strategic Management), and a Bachelor's Degree in Education (Economics and Business Studies); all from the University of Nairobi (UoN). She is currently a Doctoral (Ph.D.) candidate in Education Planning at the University of Nairobi.

Ms. Wafukho has published several research papers and represented Kenya in many high-level conferences both locally and internationally. She also holds various academic merit awards and certifications on Public Policy Analysis, having been trained both locally and internationally.

As part of her community initiatives, she is passionate about mentoring young girls to aim higher and grow into transformational leaders in their local communities and on the national stage.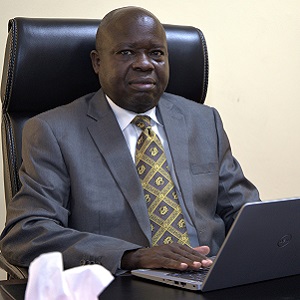 Dr. Nichodemus Anyang
Commissioner
Dr Nicodemus Ojuma Anyang PhD has 31 years' experience of working in the Education Sector, 25 of them in management position. Between 1990 and 2007 he served as a teacher, head of department and principal in several secondary schools.
Between 2007 and 2019, he served as District Education Officer in Kisumu, Keiyo and Meru, and County Director of Education in Turkana, Nandi, Uasin Gishu and Nyamira. Between 2019 and 2021, he served as Deputy Director of Education at MoE Headquarters where he also served at the Competency Based Curriculum Task Force Secretariat. He Served as an independent Member of Kibabii University Council from 2013 and 2017, and as Member alternate to the Principal Secretary State Department for University Education, University of Eldoret Council between 2018 and 2019.
Dr Anyang has Published more than ten articles in reputable peer review Education Management journals as well as three books on education. He has served as a teaching practice assessor for the Africa Nazarene University, part time lecturer at Mount Kenya University and an external examiner of post graduate theses at Kisii University.
He holds a Doctor of Philosophy degree in Education Administration from Moi University, a Master's in Education (Administration and Planning) from Kenyatta University and a Bachelors of Education Arts (Eng./Lit) from Kenyatta University. He is a member of the Kenya Association of Education Administration and Management (KAEAM) and the Kenya Oral Literature Association (KOLA).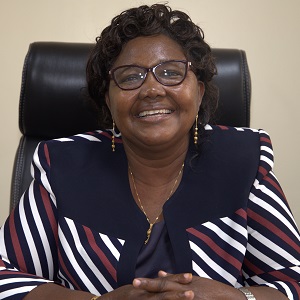 Christine Kahindi
Commissioner
Christine Kahindi has over 35 years' experience as a teacher and principal. She has taught at Jaribuni, Kilifi Township and Lenana Schools and headed Kilifi Township, Majaoni and Katana Ngala Secondary Schools as Principal.
For her good performance, she was awarded the Principal of the Year Award, Kilifi County (2017), and the Distinguished Service in School Management by the Kenya Secondary Schools Heads Association (2010).
She holds a Masters of Education (Educational Administration) from the University of Nairobi, A Bachelor of Education (Arts) from Kenyatta University and a Diploma in Education (Humanities).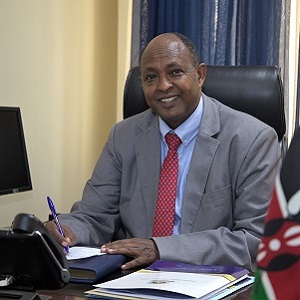 Salesa Abudo
Commissioner
Salesa Abudo is a seasoned Administrator with 36 years' experience in educational policy formulation and implementation at various levels in the educational sector. He is skilled in Human Resource and educational administration. He has vast experience of working in multi-cultural environments and has served in various capacities of educational management.
He has been an Education Officer in Laikipia, Nyeri, Meru and Kitui counties; a Programmes Officer at the Ministry of Education headquarters and a Tutor at Meru Teachers College.
He holds a Masters in International Education Management from the University of Leeds and a Bachelor of Education (Arts) from Kenyatta University.